Description
Product Details
Our latest Saviour Generation Tactical suit aims to be the most comfortable and flexible suit available offering the highest levels of protection against blast threats:
SPECIFICATIONS
The Kejo EOD Tactical Suit is especially designed for EOD and demining operations and for specialists in the Military and Police who search for mines and explosives. The suit is designed to provide the maximum possible protection against fragments and explosions from detonating anti-personnel mines and IEDs. The apron can be worn by itself for maximum mobility and cooling. The sleeves and/or leggings can be added to increase the protection area.
This suit and accessories are available in various levels of protection. Standard
levels are: NATO STANAG 17gr. FSP V50=450m/s, 500m/s and 600m/s.
Features
The Kejo EOD Tactical Suit provides front, side fragmentation and some back protection Features with an adjustable closure design .
The Kejo EOD Tactical Suit is designed to provide protection primarily for the front, neck, shoulder and groin areas. Only the front of the body is protected, leaving the back exposed, which ensures that the suit can be worn for long periods of time without excessive heat buildup.
The knees of the apron have been reinforced with padding to ensure maximum comfort for the operator in the kneeling position. Removable ballistic panels; with washable outer covers.
Area of ballistic coverage: 0.65m2
Fragmentation Options
We offer 2 different fragmentation levels, which make use of different fragmentation material and configurations to meet different price and weight targets.
Color Options:
Black, White, Navy Blue, Desert Tan
Size: One size fits all.
Protection Levels PROTECTION FROM FRAGMEN
Neck and shoulders 594 m/s. +/- 5
Arm 452 m/s. +/- 3
Elbow 529 m/s. +/- 3
Shorts Front 450 m/s. +/- 5
Shorts Back 250 m/s. +/- 5
Thighs front 449 m/s. +/- 4
Thighs back 250 m/s. +/- 5
Shins front 450 m/s. +/- 5
Shins back 250 m/s. +/- 5
Front plate 1700 m/s. +/- 5
12 months on carriers and 5 years on Ballistics
2012 Saviour Model Blast Plates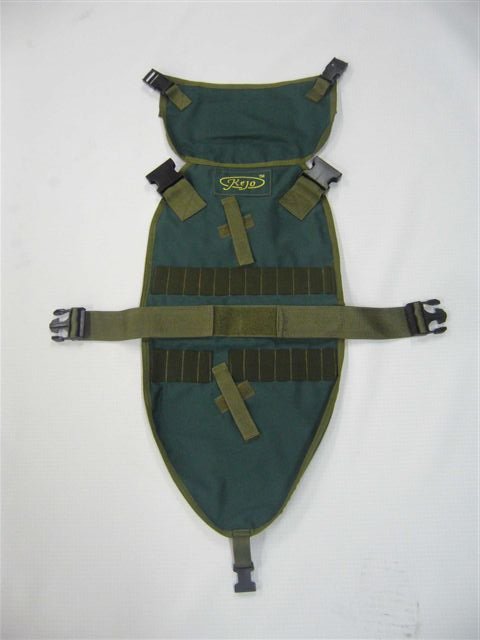 In the front of the jacket is the chest and a groin blast plate which has the effect of enhancing the V50 up to 1900 m/sec.
Moreover these blast plates have a built in acoustic decoupling system to protect ones lungs and internal organs. They are clipped on to the front of the suit. The bottom groin plate protector slides up into the blast plate cover behind the chest protector plate when the wearer bends down allowing free movement and comfort.
*Armored steel and layered aramid.
Type 2 V50 1300 (m/s) Option 1900 (m/s)
Saviour Model Spinal Protector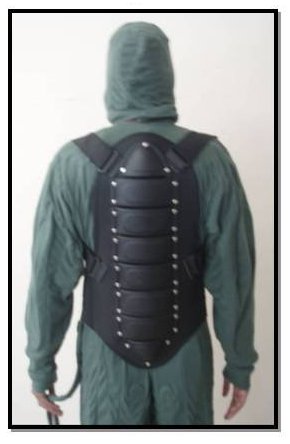 KEJO Spine Protector
The bomb suit has a spinal protector as standard equipment which is worn independently. The spinal protector is CE Approved. This prevents any serious back injury should the wearer be thrown on his back from any explosion.
Price on application
REF.# EOD-TAC